The buzz happened while she was waiting for chai. She had put her phone down on the surface of a small table and was staring hard at her visibly baked barista, who was scanning the row of tea tins at a sloth's pace. She didn't know whether to drum her fingers, pull one of the dude's blond dreadlocks, clear her throat, or remind him that the chai mix was kept separately from the rest of the tea bags. The buzz was a different pattern than the usuals. Not Facebook. Not Snapchat. Not a text. Her ear picked up some minute difference in rhythm. What was it? Probably some bullshit reminder from her Geico app. She picked her phone up and pressed her thumb to the unlock button.

Tinder. Great. Just what she needed. She looked at the barista, who was now staring at the back of the order-taking manager and visibly contemplating whether to interrupt to ask a stupid question, and decided that maybe this was actually just what she needed. To pass the time. She opened the app. He was cute. Or cute enough. No fishing pictures. Fine. Fine. Okay. What's the line, dude?

HI MEGAN. ARE YOU FUNNIER THAN ME?

What the fuck. —What the fuck, she typed.

YOUR PROFILE SAYS YOU'RE A COMIC. HOW FUNNY ARE YOU?

She looked at the time. She was late. —How am I supposed to answer that question?

TELL ME HOW FUNNY YOU ARE

"Excuse me, ma'am?" It was the manager, taking over for the glazed barista, who had wandered off to nonchalantly sweep a patch of floor. "What kind of tea did you want?"

"Chai soy latte," Megan replied, trying to keep the edge out of her voice. "Medium."

"Grande?"

"Whatever. Yes."

"Okay. That's $4.35."

"I already paid," Megan said, pulling the receipt out of her pocket. "Order for Megan?"

The manager looked at the tickets in front of her. "I don't see a Megan."

"Please make me a medium chai soy latte. Please."

The manager looked embarrassed. Megan felt bad. The phone buzzed.

ARE YOU FUNNIER THAN GEORGE CARLIN?

—Why are you comparing me to George Carlin?

DO YOU NOT KNOW HOW FUNNY YOU ARE?

The questions. These questions. The espresso machine went to work on frothing her milk, and the loud hissing of it was like an airplane engine in her ears. She was 15 minutes late now. The stoned barista was bobbing his head like a pigeon while he swept.

—Sry dude I'm not into this convo

NOT INTO IT?

—Not into it

HOW DO YOU KNOW? IT'S BARELY EVEN STARTED

"Megan? Chai soy latte?" There was hardly anyone else in the coffee shop at this dead hour of the morning, but the manager still announced the order to the entirety of the room, like a Shakespearean actor barking to the back seats. Megan dropped her phone in her purse, grabbed her chai, and dashed out the door.

It was a gray day, colder than it needed to be. She held her heavy purse close to her body by squeezing her armpits closed and cradling the chai in front of her like a mouse holding a corn kernel. The heat of the chai burned through the thin cardboard of the cheap cup holder. The stinging cold and the burning warmth both assaulted her hands. She wished, not for the first time, that she had asked for gloves for Christmas instead of scarves. She looks dumb in scarves, and now she has, like, eight of them.

It felt like every step toward her car was accompanied by the now-familiar rhythmic buzzing of her Tinder interrogator. She juggled her way into opening her car door, got settled, sighed, and pulled out the phone. She was so late now that it didn't matter. Beyond late. Missing. She idly contemplated just heading home and calling in sick as she read the messages.

DO YOU QUIT LIKE THIS IN THE MIDDLE OF YOUR JOKES?

I JUST ASKED A QUESTION

YOU HAVEN'T BEEN FUNNY ONCE

I BET YOU AREN'T FUNNY

WHERE DO YOU DO COMEDY

I WANT TO WATCH YOU SO I CAN DECIDE MYSELF

SINCE YOU WON'T ANSWER

Megan knew where this was going. Within another minute, if she didn't reply, he was going to call her a bitch. She didn't need to be called a bitch today. She was much too involved in deliberately feeling like a bitch to have some stranger pull it out of his ass and fling it at her like so much chimpanzee poop.

—I do regular sets on your mom's clit

—Now go away. I told you I'm not into it.

HAHAHAHAHA

HOW DO YOU KNOW YOU'RE NOT INTO IT? YOU DON'T KNOW ME YET

—I can just tell. Women can just tell when they're not into it. Trust me.

HOW? WOMEN'S INTO-IT …TION?

Megan snorted despite herself as she took a sip of chai. The hot liquid got into her sinus, burning her face. She swore and continued staring that the awful pun. Why did she answer? Why did she ever answer? Why was she even on this dumb app? Why did she need this chai? Why couldn't she ever get to work on time? Why was it so damn cold in Texas?

She wanted to type something to stop it. She wanted to enter the magic words into her phone that would end this conversation and all future conversations and her need for men in general and her entire digital life. She thought about deleting the app. But then there he was, with his caps lock on, still calling her a bitch somewhere in the electrical impulses of the unseen world.

—Fuck off, she typed, then deleted it. He surely saw the bouncing ellipses.

—Ur dumb, she typed, then deleted it. She started her car and turned on the heater.

—I'm funnier than you, she typed, then deleted it.

Her gas tank was empty. One more errand to run. The chai was awful. Sickly sweet. They probably put vanilla almond milk in it or something. A car pulled up behind her with its blinker on, clearly waiting for her to back out of the spot. There were two spots behind her, but heaven forbid the driver would have to walk ten more steps to get coffee. The menacing patience of the car's blinker made her want to sob.

—Haha you're funny, she typed, then sent it, and the conversation ended there.
---
Jukebox Stories are an experimental form of flash fiction where prompts are solicited from readers and then used to create a first "chapter" of that idea for free. Anyone can commission additional chapters at any time by clicking on the link below. Longer works, once completed, can also be read at the link below for a suggested donation of $1. Thank you for supporting creative writing and Jukebox Stories!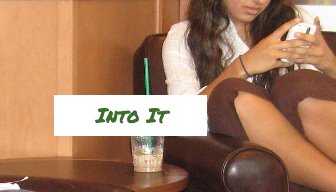 Click the image if you want to read more!